Russian curler Anastasia Bryzgalova teamed up with her husband Aleksandr Krushelnitckiy to win the bronze medal in the curling mixed doubles event at Winter Olympics 2018. The Russian couple sealed an 8-4 victory over the Norwegian pair of Kristin Skaslien and Magnus Nedregotten, scoring a point in each of the last three ends.
However, that is not the only reason why the 25-year-old Anastasia has left everyone drooling on her. It is her beauty which is giving a treat to the eyes of sports fans.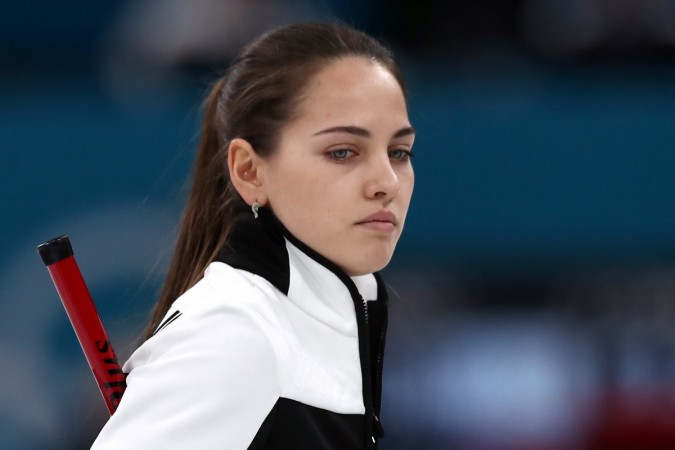 Anastasia Bryzgalova of Olympic Athletes from Russia looks on against Norway during the Curling Mixed Doubles Bronze Medal Game on day four of the PyeongChang 2018 Winter Olympic Games at Gangneung Curling Centre on February 13
Ronald Martinez/Getty
Anastasia's looks are being compared to that of a 21-year-old Angeline Jolie!
Anastasia married Aleksandr last year and they had won the 2016 World Mixed Doubles Curling Championship. They remained one of the star attractions as Curling debuted as an Olympic event in Pyeongchang, South Korea, this year.
A post shared by Anastasia Bryzgalova (@a_nastasia92) on
The Russian curling mixed doubles team is led by Anastasia Bryzgalova, who looks like Angelina Jolie at 21 if she ever picked up a broom.

— James Stewart (@jamespstewart) February 8, 2018
If you don't have any interest in Olympic Curling, you might now:

Anastasia Bryzgalova (RUS) pic.twitter.com/DZo8N4NG6q

— Ryan Wolak (@Wolak22) February 8, 2018
I stayed up late last night, I'm beat and it's only noon. It's all Anastasia Bryzgalova's fault. I was totally awe struck over the sport of curling. A sport I consider about as interesting as watching paint dry suddenly has my attention! #RussianCurling #AnastasiaBryzgalova pic.twitter.com/Dzw4VVL8S4

— Cedar Posts (@CedarPosts) February 8, 2018
"It's very important that we are family," Bryzgalova said after winning the bronze medal on Tuesday. "That was very important in order to survive yesterday's (semi-final) loss.
"Just to come out here today and to make the match that we can be proud about. The fact that we are family helped us a lot."
Наш особенный день???? #13июня #weddingday

A post shared by Anastasia Bryzgalova (@a_nastasia92) on
A post shared by Anastasia Bryzgalova (@a_nastasia92) on
(with Reuters inputs)