Since Shaun Wade and Wyatt Davis opted back into playing this fall after the Big Ten announced it would begin its season in October, Ohio State does not have a single player opted out of the 2020 season. Barring injuries or other health-related absences that might occur, Ohio State is expected a full contingent of 85 scholarship players available for its championship chase.
Considering that the Buckeyes still haven't had a full-fledged practice since their lone week of spring practice in March, there hasn't been a whole lot that's changed with Ohio State's roster in the past six months. The Buckeyes' outlook at each position isn't much different at any position than it was before the COVID-19 pandemic started.
Yet because we've spent much of the past six months talking about whether or not the football season would actually happen rather than about the team itself, we thought it would be time for a good refresher on how the Buckeyes stack up at each position – especially considering that roster depth could be more important than it's ever been this season due to the pandemic and the Big Ten's protocols that will keep any player who tests positive for COVID-19 out of action for 21 days.
Below, we take a look at Ohio State's scholarship roster at each position – broken down by returning starters, returning contributors and potential new contributors – with analysis on what the Buckeyes' depth chart could look like at each position group and how good they should feel about it, along with quotes from Ohio State coach Ryan Day from last week's Ryan Day Show on each position group as the buildup to the rescheduled fall season begins.
Quarterbacks (4)
Returning Starters: Justin Fields (917 snaps in 2019)
Returning Contributors: Gunnar Hoak (48 snaps in 2019)
Newcomers: Jack Miller, C.J. Stroud
If Ohio State hadn't played until the winter or spring, the Buckeyes likely would have a new starting quarterback the next time they took the field, as Fields would have had good reason to opt out and begin his preparation for the 2021 NFL draft if he didn't have a chance to compete for a Heisman Trophy and a national championship. But Fields never wavered on playing in a fall season, and the Buckeyes will enter their quest to return to the College Football Playoff with one of the two best quarterbacks in college football as a result.
Depth remains a real concern for the Buckeyes, as none of their other quarterbacks have ever started a collegiate game, and two of them have never even taken a collegiate snap. That said, both Stroud and Miller have the upside to be Ohio State's starting quarterback of the future. The question is whether they will be ready for significant playing time if needed this year, especially after a stunted offseason due to the pandemic, or if Hoak is good enough to be a legitimate No. 2 quarterback now that he has a season with the Buckeyes under his belt.
Day's take: "First off, Justin has had an unbelievable offseason. Really happy that he's gonna be able to play, because everybody – college football, Buckeye Nation and even us as coaches – to see him only play for one year would have been really tragic. And so now, we get a chance to see him play, which is great. I know he's got some unfinished business, he feels like, so that was great to see. 
"But yeah, building depth there. Gunnar comes back and he's got a year under his belt now, he kind of got thrown into it last year in the middle of camp, so having somebody now who's a little bit more veteran. And then the two young guys to develop. And (quarterbacks coach) Corey Dennis has got his hands full, because they're both young guys, but we got two really good, talented guys to develop. So Jack and C.J. are out there learning every day.
"We haven't really been able to do a bunch of team work, so it's been a lot of routes on air, some seven-on-seven, but as you know, it's a lot different when the linemen are in front of you and the pass-rush is coming. So they're learning. They're getting in every day. We're throwing everything at them, which is great. We're not just giving them the easy stuff, we're giving them the hard stuff too. But they're able to see Justin go to work every day. And that's the thing that helped Dwayne (Haskins), helped Joe (Burrow) here is watching J.T. (Barrett) go to work and just as time has gone on, you have somebody there to watch and learn how to be a pro."
Running Back (5)
Returning Starters: None
Returning Contributors: Master Teague (264 snaps in 2019), Marcus Crowley (36), Steele Chambers (33)
Newcomers: Trey Sermon, Miyan Williams
While Ohio State has big shoes to fill at running back following the departure of J.K. Dobbins, the Buckeyes got a big boost at the position this summer when Trey Sermon – who ran for 2,076 yards and started 19 games in three years at Oklahoma – arrived in Columbus as a graduate transfer. He has the potential to be one of the Big Ten's best running backs this season, and is likely to be Ohio State's new starter.
Teague, who suffered an Achilles injury in March that partially prompted Ohio State to bring in Sermon, is also expected to play a significant role in the Buckeyes' backfield after making a quick recovery from his injury. He showed he has the ability to be an impact player at running back for Ohio State by running for 789 yards as Dobbins' backup last season, and he'll likely get a closer-to-equal share of the carries with Sermon than he did with Dobbins.
Crowley's availability for the 2020 season remains in doubt after he tore his ACL last fall, but Sermon and Teague should provide a strong 1-2 punch at the top of the depth chart while Chambers should be capable of contributing as needed. Williams, a true freshman, will likely begin the season at the bottom of the depth chart but has drawn praise for his body transformation entering his first year at Ohio State.
Day: "Master Teague, first off, has done an unbelievable job of getting himself healthy again in such a short period of time. The amount of work he put in to get himself ready to roll is just amazing. But then also, getting Trey in here is really great for us. He's a really good young man who understands football. We haven't seen him with pads on, but he's done everything we've asked him to do to this point, so excited to see him once we get rolling.
"Marcus is coming off of that knee, and so he's still working back into practice, but I think Steele Chambers had a great offseason. He's got a year stronger, a little bit more confidence so that's great to see what he's been doing out there. I think he's going to have an opportunity to really help us this season. And then Miyan Williams is another guy who came in this summer and looks good. He's kind of a bowling ball out there, and the best thing he'll do is put on pads and get his pads down and run."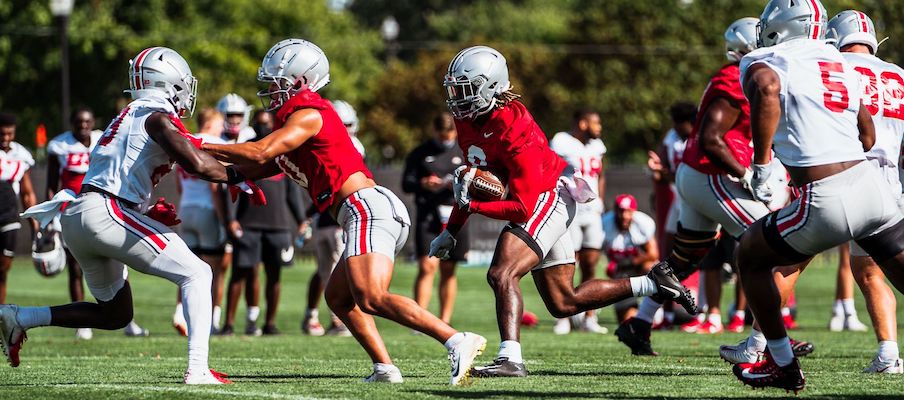 Trey Sermon should add an immediate boost to Ohio State's backfield as a graduate transfer from Oklahoma. (Photo: Ohio State Dept. of Athletics)